Secure your perpetual access to the first web3 powered regenerative co-living village in Portugal
Meet your new home, and your new tribe
We are a family of solarpunks, web3 nerds, holistic healers, naturalists, regen entrepreneurs redesigning the way humans live together.
Introducing the $TDF token - your access rights on-chain
$TDF is a housing access token that provides utility in the form of housing, food, water, and community while regenerating the planet. It will also confer governance rights in the TDF DAO, alonside other governance primitives such as Proof of Presence and Proof of Sweat. It's your key to this regenerative village.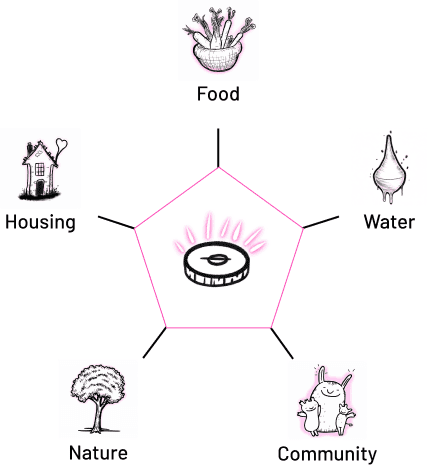 Lifetime Access

Your tokens grant you a lifetime's access to TDF, for as long as you hold your tokens.

Support Regeneration

Contribute to building a new, nature based economy.

Governance rights

Participate in key decisions such as changes to masterplan and election of executive team.

Early Adopter Benefits

Join early for the best prices, build and watch TDF grow.

Resale Opportunities

Tokens can be resold after the Go-Live event (see Whitepaper).
$TDF Unlocks Access to Accommodation at TDF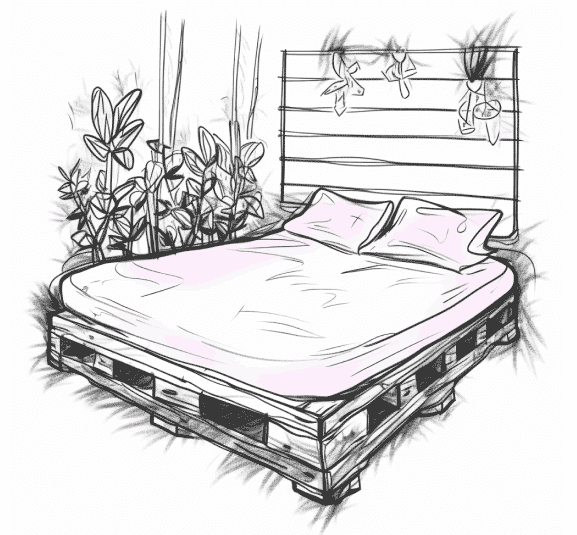 Accommodation Fees In $TDF
Price per night

Van Parking Space
$TDF 0.5

Camping
$TDF 0.5

Shared Glamping
$TDF 1

Private Glamping
$TDF 3

Shared Suite*Coming soon
$TDF 1

Private Suite*Coming soon
$TDF 2

Studio*Coming 2024
$TDF 3

House*Coming 2024
$TDF 5
The Utility Fee covers food & ongoing maintenance and operational costs (energy and water systems, internet, taxes, salaries).

Peek into Our future
Biomorphic co-working garden
Natural pool & Greenhouse
14x suites

4x studios

1x House
Our Architectural Blueprints have been approved!
Our dreams are translated in these visualizations that depict the remarkable transformation of a 1300 sq m chicken farm into a visionary future.
Did we mention our food production Yet?
Fun Fact - This summer (2023) we have harvested at least 150 kg of food from our garden.
Curious for More?
Schedule a call with our team and discuss how you can be a part of this.
Become a TDF Member to join the DAO
🐑 Instant Bookings (No space host approval required)
🐑 Collect Proof of Presence (extra governance)
🐑 Collect Proof of Sweat (extra governance)
Step 1
Complete 14 day trial period
Volunteer with us, contribute a specific skill or complete a small project while staying at TDF for at least 14 days.
Step 2
Get invited to become a member by our stewards
After staying with us for at least 14 days, and your trial has been deemed successful - you will be invited to have an informal interview with one of the stewards to map your intentions, opportunities and unique role within TDF.
Step 3
Submit your membership application
This will then be send to the DAO where you will have the opportunity to be vouched for by current members. Upon being vouched for by at least 3 current members, your application will be successful!
Step 4
You are now a sheep!
Behhhh
The Journey of our decentralised co-living
Where we've been and where we're going - see our Roadmap:
APRIL 2021
Keys To The Chicken Farm.
We move in to the 'áviário'
2021-2022 Phase 1 -
Completed
Operational CO-LIVING
Operational Event Venue (up to 100 guests)
10 Glamping Accommodations
Food Forest V1
Reforestation V1
Grey Water Treatment (Halophyte Filter) V1
Solar Energy
Functional Workshop and Makerspaces
Industrial Kitchen
Sauna
Co-Working Space and Starlink
2023 - 2024 Phase 2 -
FUNDRAISING
LAND, CO-LIVING & WATER
We are here
Co-Living Building Renovation (roof, windows, insulation, flooring, energy and heating systems)
6 Suites with Private Bath
Natural Pool
Water Systems V2 (Co-Living Building & Land Water Capture)
Pay Off Loan & Transfer Chicken Farm Property into Enseada Sonhadora (local SPV owned by OASA)
Kitchen V2
Team Operations & Salaries
2024-2025 Phase 3
Dream Spaces & Expansion
8 Suites added to Co-Living
Workshop Building Renovation
Co-Working Garden
Farm to Table Restaurant + Cafe + Industrial Kitchen
Purchase Land (currently rent contract with option to buy, 25he)
2025 Phase 4
Finishing Touches
4 Studios
Family House
Green Roof
Greenhouse (made out of old warehouses windows)
Spa
TDF: GO LIVE EVENT 🎉🎉🎉
TDF V1 IS READY!
$TDF UNSTAKED
TDF V2 Dream Session: Co-housing and Permanent Living?
4000m2 of permits to build
Governance Structure V2: Post Roadmap Era